Recommended Eateries & Spots in Ikuchi Island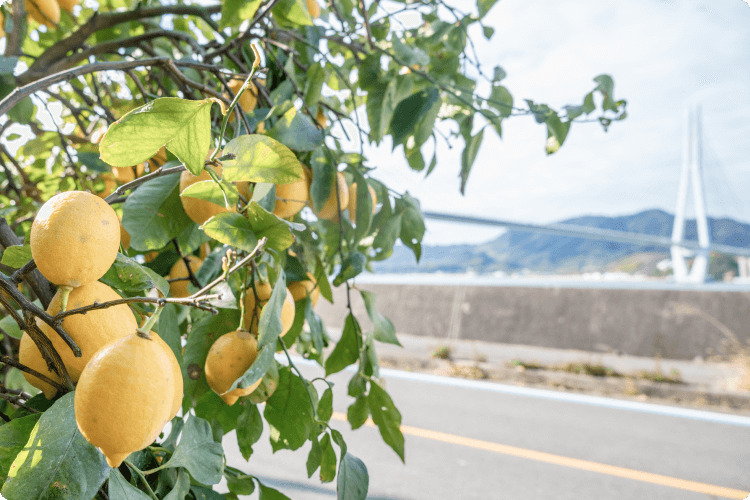 Message

Hi everyone, I am Hatanaka, the owner of Shimayado NEST. Our staff and I have put together a list of the best restaurants and visiting spots on Ikuchi island for all of you who are planning to visit. Be sure to check it out! We wish you a wonderful and memorable trip to Ikuchi island.
Enjoy Traveling Ikuchi Island
by Bicycle
Traveling by bike is a great idea on Ikuchi island! The island is full of attractive spots, such as cycling roads lined with palm trees, photogenic nature, and also delicious eateries. Bicycle is the perfect way to move around and explore the spots at your own pace. The roads of Ikuchi island have gentle slopes, making it a comfortable ride even for beginners. You can also rent a bike from one of the rental shops on the island. Why not enjoy a bike trip on Ikuchi Island?

List of Bicycle Rental Shops in Ikuchi Island
Recommended Spots
in Ikuchi Island
Ikuchi island is a popular destination for cyclists due to its location along the great cycling route of Shimanami Kaido, but its charm is not limited to just cyclists. The island has a variety of popular attractions, including lemon orchards, art museums, temples, beaches, and more!
Lemon Valley

Setoda town has the highest lemon production in Japan, thanks to its warm weather and careful cultivation. It's also a great photogenic spot where you can take pictures with a backdrop of lemon orchards, ocean views, and the Tatara bridge. Refreshing sight of yellow lemons can be seen from January to April.

Island-wide Museum

Based on the idea of turning the entire island into a museum, you can find mysterious sculptures all over the island. They are artworks created by contemporary artists inspired by the scenery and sounds of Ikuchi island.

The Hill of Hope

The hill is made of marbles transported by ship all the way from Carrara, Italy. From the hill top, you can enjoy a panoramic view of the beautiful islands of the Setouchi ocean. With a Mediterranean atmosphere, we highly recommend as a must-see spot for visitors.

Kosanji Temple

Kosanji Temple is a Buddhist temple of the Jodo Shinshu Honganji-ha sect, with luxurious architectures. Don't miss to visit the "Senbutsudo Jigokukyo" (Thousand Buddha Cave Hell Valley), where depictions of heaven and hell in Buddhism are shown in a 350-meter long tunnel.

Hirayama Ikuo Museum

The museum is dedicated to the famous Japanese painter Ikuo Hirayama, known for his series of paintings inspired by the Silk Road. The museum also exhibits works from Hirayama's childhood and youth, making it a fascinating art museum to visit.

Setoda Sunset Beach

With its 800-meter-long white sandy beach, Setoda Sunset Beach is a must-visit spot for sunset lovers, as the name suggests. The sunset here is truly beautiful, painting the surrounding islands in a deep red hue, creating a romantic atmosphere.

Tatara Bridge

Tatara Bridge is a cable-stayed bridge connecting Ikuchi island and Omisima island, spanning approximately 1.5 km long. Cycling across the bridge on a sunny day is a refreshing experience! At the midpoint, you can straddle the border between Hiroshima and Ehime prefectures with one foot in each, adding a fun touch to your visit!
Check out more recommended spots in Ikuchi Island
Recommended Eateries
in Ikuchi Island
There are many attractive dining options in Ikuchi island, from seafood restaurants using local ingredients, to Chinese restaurants beloved by the locals. In this guide, we have carefully selected the most highly recommended dining spots that we definitely recommend you to visit.
Keima: Sushi and Kama-meshi

This is a popular restaurant among guests who stay at Shimayado NEST. They serve tasty dishes made with fresh local fish, including sushi and kama-meshi. Due to its limited seating capacity, reservations are recommended in advance.

Restaurant Wakaba

At Wakaba, which has been in business for over 60 years, serves a superb "anago-sushi" (conger eel sushi) with a refined and fluffy taste. During the winter season, they also serve "lemon nabe", a hot pot dish made with plenty of Setoda lemons.

Restaurant Chidori

Their most popular menu item is the "octopus tempura rice bowl with egg", using local octopus. They also have a "special size" with twice the amount of octopus tempuras and four bowls' worth of rice. If you are young or a hungry cyclist, give it a try!

Izakaya Gairoju

Gairoju is a casual and cozy izakaya loved by locals, quietly standing in a back alley. The menu features ingredients from the owner's hometown of Kushiro, Hokkaido.

Chinese Restaurant Setoda

This Chinese restaurant is popular among locals for its large portions and quick service. Their popular menu item is Miso-ramen, but you should also try Tianjin-rice and Chinese bowl as they are also delicious. Even the regular portions are quite large, so women or those with small appetites should be aware.

PIZZERIA RIN

They make delicious pizza which is carefully baked in the owner's handmade stone oven. They use local ingredients for their pizza, and their homemade tabasco sauce is also a must-try. Plus, they have a kids' corner so you can bring your children without worry.

Japanese Cuisine Shokusai Kooge

At Kooge, you can enjoy authentic Japanese cuisine while watching the sunset over the Setouchi ocean. They also have a great selection of drinks. If you want to spend a luxurious and relaxing time in a private room with a "hori-gotatsu" (a table over a hole in the floor for your legs), this is the place to go.

Shimanami Dolce – Main store

You can indulge in fresh gelato made with local citrus and fruits from Setoda. The salt gelato made with salt from Hakata island, famous for its "Ha-Ka-Ta-No-Shi-O!" commercial, is also a must-try. In addition to the main store, there is also a branch store located in front of the Kosanji temple.
Check out more recommended eateries in Ikuchi Island
Other Recommended Spots
Yubune

If you are tired after spending the whole day sightseeing, why not relax at a "sento" (bathhouse)? Yubune bathhouse is located just a 3-minute walk from Shimayado NEST. The opening hours are from 10am to 8pm, and the admission fee is 900 yen for adults and 450 yen for children. Towels and other amenities are available for rent at an additional fee.

Learn more about Yubune
Setoda Baigetsudou

This is a traditional Japanese confectionary store located in front of the main gate of Kosanji temple. They offer two types of lemon cakes made with local Setoda lemons, and their "sour lemon cake" won first place among our staff in the "Setoda Lemon Cake Tasting" event. These cakes make a great souvenir from Ikuchi island.

Learn more about Baigetsudou
Another recommendation—
Spending a relaxing time at
Shimayado NEST
While spending the whole day sightseeing around the island is a great option, we also recommend taking some time at Shimayado NEST. Our inn has lounge areas and terraces where you can chill and relax. As our guest, you can enjoy complimentary coffee and tea. We also offer a mini-bar with cold beers and soft drinks for purchase. We hope you'll take the opportunity to unwind at our inn.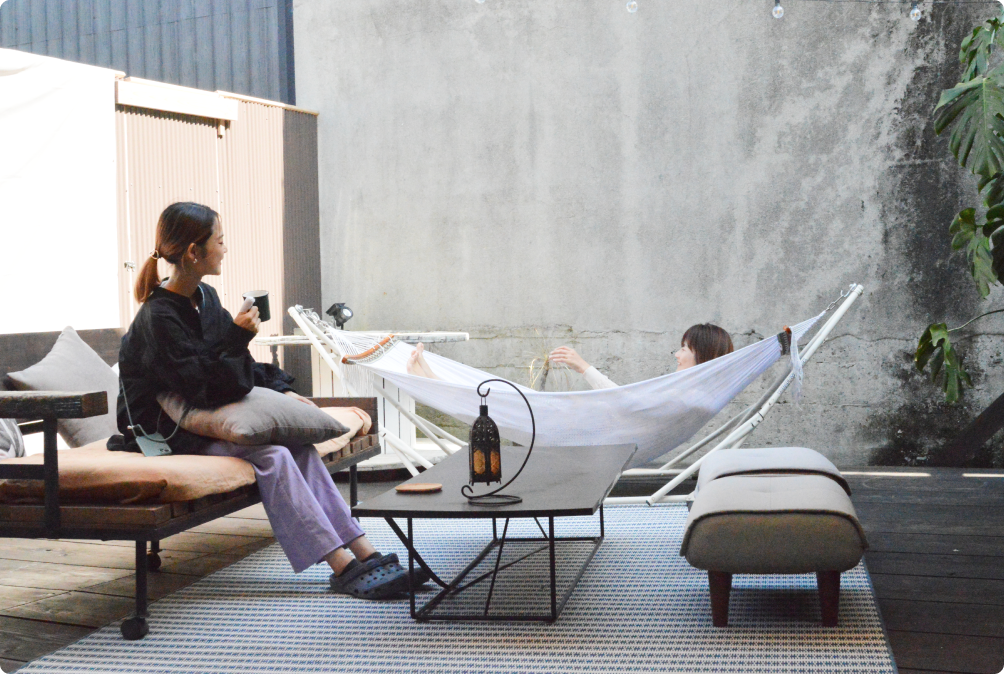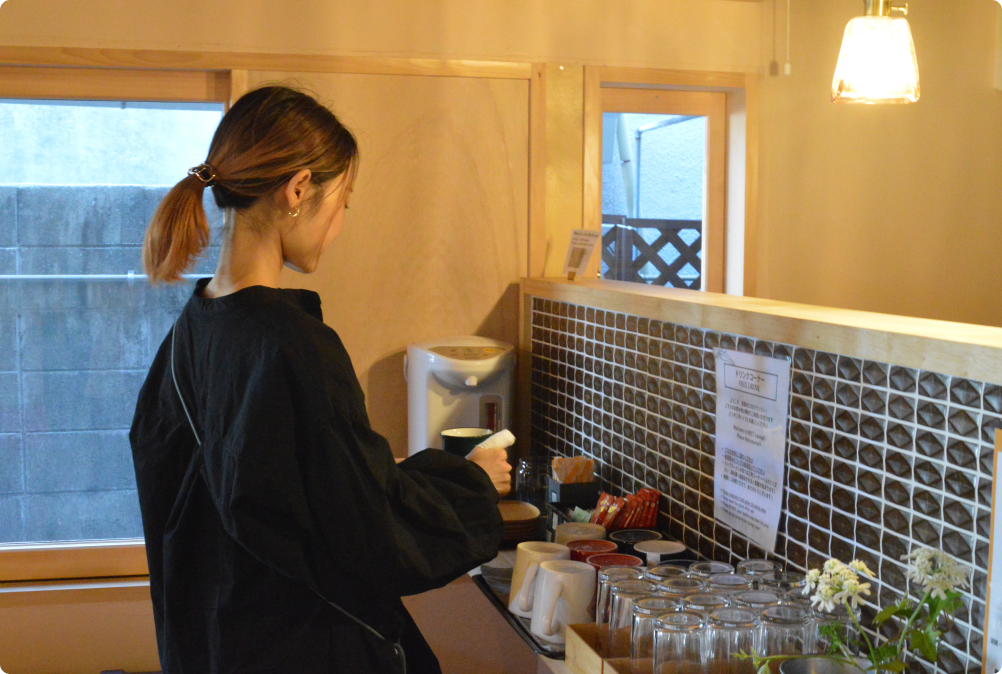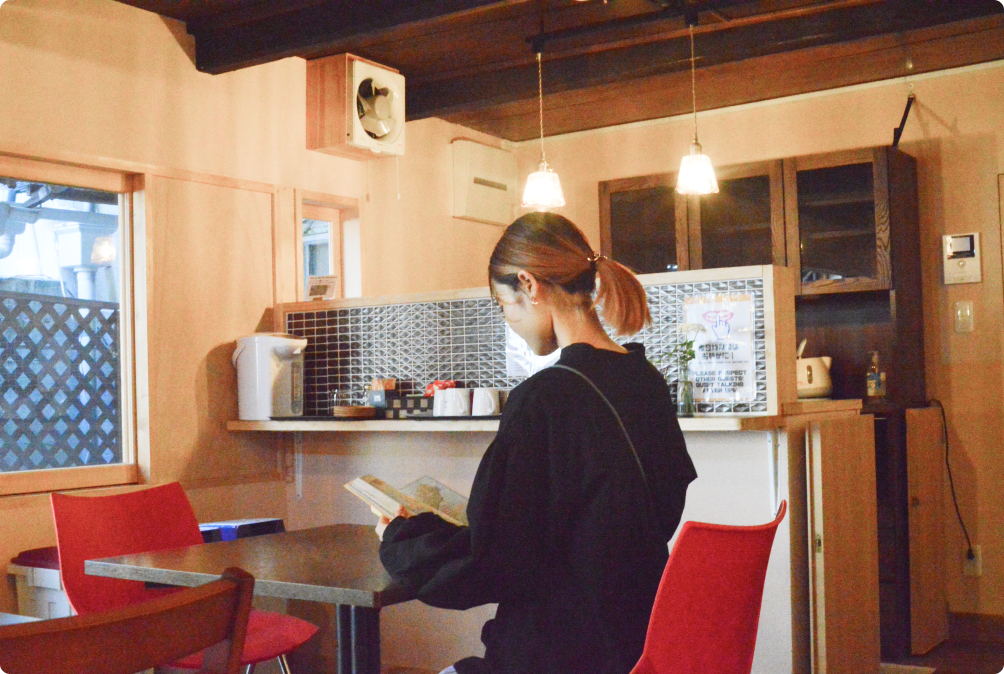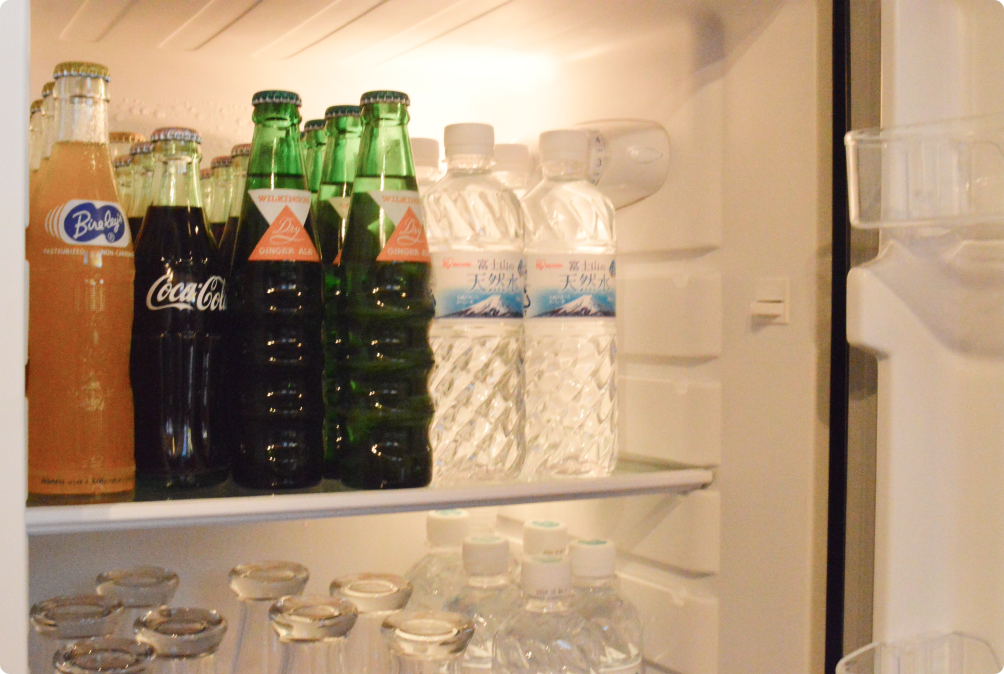 Learn more about our rooms and facilities